With the "Corporate Edition" wine and chocolate tasting you will be introduced to the flavor attributes of chocolate, followed by pairings of specific combinations of wine and specialty chocolate candies.
This is a great way to show appreciation for your team, your customers, or even key vendors.
Every chocolate and wine tasting is a different experience.  And Bryn customizes the experience for the needs of your group.  The goal is for everyone to have a great time while learning something interesting about chocolates, wines, and the combination of the two.
Bryn will start out with some plain chocolates; milk and bittersweet, domestic and European, to create a baseline of chocolate tasting experience.  She will explain the more obvious flavors as well as those that some may not notice so easily.
Once you've got the introductory training, it's time to move on to the sophisticated level of chocolate and wine!
Typically Bryn will pick a few dry, red wines, and some sweet, white wines, and then mingle flavors with creams, truffles (if temperatures permit) and roasted nut candies.  Some of these candies will be enrobed in milk chocolate, and some in bittersweet chocolate.  While every pairing is good, everyone is certain to find a combination that they love!
Bryn will guide you through each tasting, pointing out flavors to notice, presenting interesting information, and answering any questions you might have about chocolate.  You and your guests will have an experience they won't soon forget.
The Corporate tasting includes all of the plain chocolates as well as 5 wine and chocolate candies combinations.
Base price: $2,250 includes up to 15 participants. Please add $45 for each additional participant beyond the first 15. Bryn will travel to your location anywhere within the U.S. 48 contiguous states. For other locations please contact us for a price adjustment.
To check availability and actual pricing for your event, just contact us.
Here's Bryn sharing wine and chocolate at a more casual corporate event…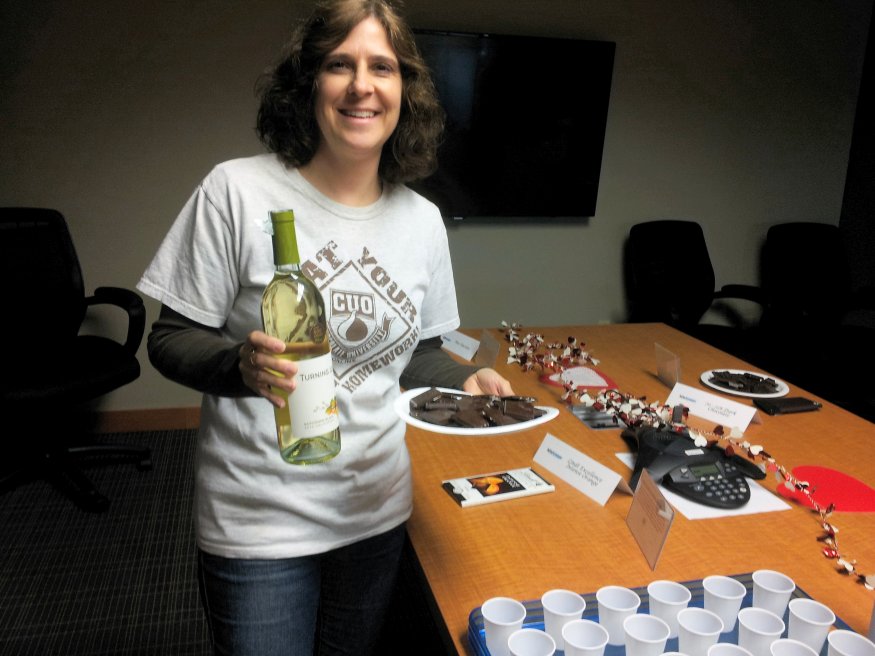 Your "Flavor Attributes of Chocolate" presentation was a great success! It was informative, entertaining and interactive with the audience. I certainly learned more than I ever had before about chocolate.
– William from Athens, Georgia
Classic Chocolate Tasting | Chocolate and Wine Tasting | Corporate Chocolate and Wine